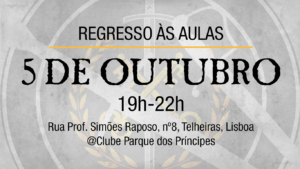 The moment you've been waiting for, we're finally getting back to our classes in Lisbon after a tough busy summer. Come visit us on October 5th at the usual spot in Parque Dos Princípes, at Rua Professor Simões Raposo nº8.
Along our normal session we'll also be hosting an Open day, so feel free to drop by and say hi.
Sessions will be in the usual schedule on Fridays from 19-22h.
We'll see you there!